Welcome!
My name is Consuelo Cardella, well-rounded makeup artist with extensive experience and expertise in image, look and hairstyling.
Your Wedding Beauty Team is the project I realized to offer to brides e their guests the services of a group of professionals dedicated to bridal beauty.
Wherever you will choose to get married in Italy, We will take care of your look with passion, know-how, and style. We work with brides from all over the world and our luggage is always packed to join you wherever your wedding event will take place in Italy.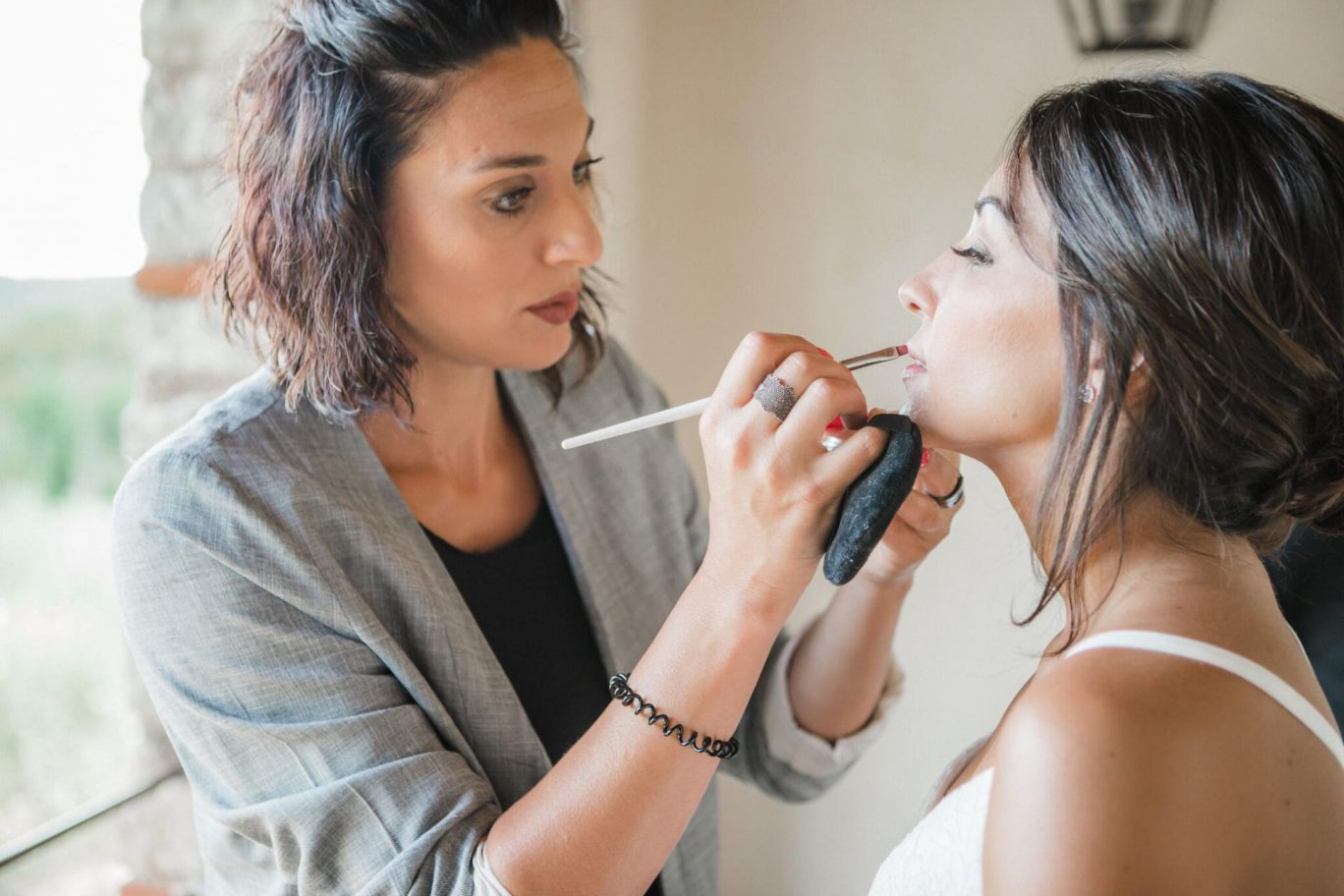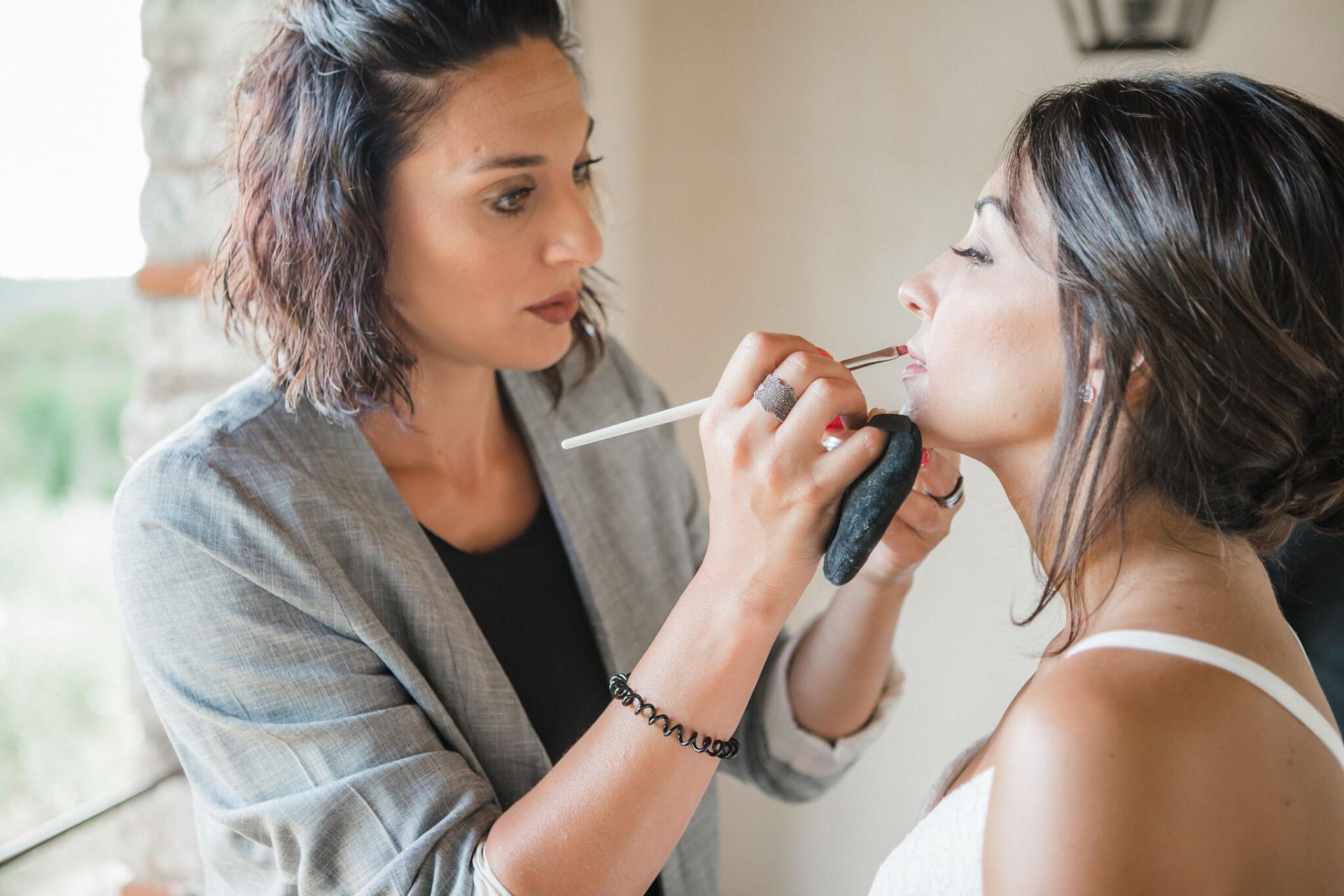 Please spend few minute of your time reading the story I would like to tell you about me and the beauty professionals in my team, because I believe that knowing my taste and method is essential prior to decide your look to rely on me during the most important day of your life.
I am a beauty professional, a look consultant and expert, a Hair Stylist and a Makeup Artist with a long-standing experience on a National and International scale.
I originally approached the makeup world in 2005, most likely with an attitude of curiosity. At that time I was working as a fashion model and I was always very focused on the way hair stylists and makeup artists created my different looks. Thus I furtively started watching their moves, to understand and catch their secrets. I suddenly realized the face of a woman is like a blank canvas, which becomes a graceful painting transmitting the hints of her personality thanks to ability of the makeup artist in valorizing the traits, the peculiarity and the dimension of her facial beauty.
I understood that the makeup world would have been a very important part of my life, and I moved to London to attend a variety of classes at prestigious academies such as AOFM and The Session School of London. I was awarded the degree of Professional Makeup Artist, and obtained various Makeup and Hair Masterclass qualifications. Then I started working as Makeup and Hair Stylist for a large array of events related to beaty: videos, workshops, photography shooting, fashion editorials, catalogues, lookbooks, fashion shows, advertisements, and TV shows. I collaborated to many advertising campaigns, including brands such as Marc Jacobs, Blumarine, Michael Kors, and Gucci.
To this day, I still committed to teach various techniques of makeup at training courses of masterclasses in collaboration with several Beauty Schools.
An all-inclusive service for your beauty and bridal look
My makeup artist career allowed me to often work abroad (USA, Middle East, and around Europe), and I discovered that bridal makeup is absolutely my favorite service. I worked with brides from all over the world, and learned how to fulfill all their different desires, to recommend them the best makeup solutions and make them feel wonderful. I have often been called in very renowned Destination Weddings to ensure the look and the beauty of the brides, the bridesmaids and lot of the guests.
An intense and very satisfying job requiring a very close-knit team that is able to understand the different demands of each woman, enhance her lineaments, provide beauty recommendations and transmit serenity to her. I realized that such kind of bridal service (where hair, makeup and nail artists work in close proximity and symphony) allows me to offer the best of my beauty knowledge: taking care of complete look of a woman and creating a sacred harmony among the makeup, the hairstyle, the wedding dress and the mood of the ceremony.
Around my professional project, I gathered a group of professional artists I have been working with during the last decade, and (most importantly) who have an inestimable value for me on the personal viewpoint. This is how Your Wedding Beauty Team was born. I have been of the pioneers in Italy in offering such a team-oriented Wedding Beauty Services. We are able to provide a flawless and all-inclusive service across Italy, taking care of many women in relatively short time windows, fulfilling even the most demanding wishes and desires, and understanding people coming from all over the world.
I am popular for my work dedication (which sometimes makes me forget that I am spending hours making up brides), but also for my curiosity towards novelties in terms of beauty trends, products and techniques. My headquarters are in Siena, located in the magic heart of Tuscany, but my luggage is always packed (with cosmetics and brushes!) for carrying my beauty secrets towards you, across Italy and abroad.