Who is the bride hairstyle service by Your wedding Beauty Team addressed to?
Our wedding hairstyle service is thought to:
Brides who are going to celebrate their wedding in Italy and are looking for a high-level wedding hair & makeup service to create their look and have it realized for the wedding day, cosily at the location they chose.
Brides coming from all over the world who chose Italy as a charming wedding destination and wish to find trusty wedding professionals experienced in bride hairstyle. They want an impeccable service, expertise and elegance, performed by a team who can speak English and who's used to work with exclusive and international customers.
Bridesmaids, witnesses and guests who are going to join the celebration in Italy and want to be sure their hair and makeup will be realized by trained professionals who can reach them at the location. They want efficiency and organization but also someone able to give advices to grant that their outcome will perfectly fit with the style of the ceremony.
Bride hairstyle service at the location in Italy
It's important the ability to keep together all the elements in the creation of a total look for a bride on her wedding day. I founded Your Wedding Beauty Team to offer my counselling and the help of professionals to a bride, to let her be followed throughout the creation of her image: from the beginning of an idea to an ending with the realization of every small detail.
Bride's makeup, hairstyle and manicure must link into an only harmonized shape with the dress and the atmosphere of the ceremony.  Wherever you decide to organize your wedding in Italy, I will reach you at the location with my team and we will take care of you to let you be wonderful.
A stylist of my team will be personally assigned to you and he will supervise all the details, from the beginning before the wedding to the same day of the ceremony. He will take care of you and will manage in the achievement of a perfect makeup and hairstyle according to your preferences.
If you ask for, we can care of your bridesmaid and guests too.
Thanks to our international experience in the beauty and building images field I could evolve my ability in styling. I chose the best professionals and composed a team who shares with me not only the passion for this job but also the willing to be always up-to-date, the aesthetical refined and disciplined taste. We speak English and we are used to accomplish bride's desires to undertake a journey towards the realization of their beauty dream on their most important day.
How does the hairstyle service work?
To book the service my advice is to contact me as soon as you decide when your wedding day will be. Indicatively a reservation 4-6 month before is enough to be sure Your Wedding Beauty Team personal stylist will be available on that day.
Don't be worried because of distances, we'll keep in touch on Skype by means you could share your preferences and I will give you all the preliminary and necessary information to create a faithful relation. You may send us hairstyle photographs you recommend keeping in consideration to outline your bride look, and you can also share Pinterest mood board with us in order to have an accurate idea of your tastes.
If your groom and you will come in Italy before the wedding to visit the location, we could meet each other in advance to have a preliminary try of your hairstyle. According to the dress, to the shape of your face, to the colours palette chosen for the makeup and the style of the ceremony we will propose you some hairstyles to find out what you like the most.
If you're not coming in Italy to plan the ceremony, don't worry. We will reach you the day before your wedding to try, define and decide both the hairstyle and the makeup to have a saving time and clear schedule on the next day.
We will propose you the style we'll have output for you keeping in consideration the pictures you'll have sent us during the months before.
Our gratification comes from our ability to get the best result finding the way to combine properly the bride's shape, dress and personal taste to the ceremony mood so that to let her be happy of the outcome. Considering these variables, usually only one or two hairstyles alternatives are enough but if a plus try is needed your personal stylist will be available. We can realize a very wide range of hairstyle: from natural to highly studied and laboured, both for long and short hair, whether you'd like to have your hair free or tight.
On your wedding day we'll be fast and accurate in order not to let you loose time you may prefer to spend with your guests to celebrate such an important day. It'll be full of emotions and commitments in preparation, so that our task is to save as much time as possible with the makeup and the hairstyle. We'll take not more than two hours to let you be ready.
To complete your look, we offer:
Hairstyle and makeup touch up all day long, with the stylist who'll stand by you available to grant a perfect look for every photo shoot and video, both after the ceremony and during the after party
Lash extension to underline your glance
Nail art service
Hairstyle service for your bridesmaids, witnesses and guests
Your Wedding Beauty Team can offer a makeup service to your bridesmaids and guests too, who may desire to be at the top of their beauty on that day even if they are far from home and their daily trusty aestheticians.
We'll manage to create their own beauty style and to work out with eventual problems, to let you be sure they will be happy and comfortable too.
For what concerns your bridesmaids we can outline a plan with you during our talks months before, a common mood for their hairstyle that should be some way combined to yours, to the ceremony and their bouquet colours. On the wedding day each of them will be supported by a personal stylist who's going to realize makeup and hairstyle for them, taking care of every detail and adding a unique stylish touch to their look.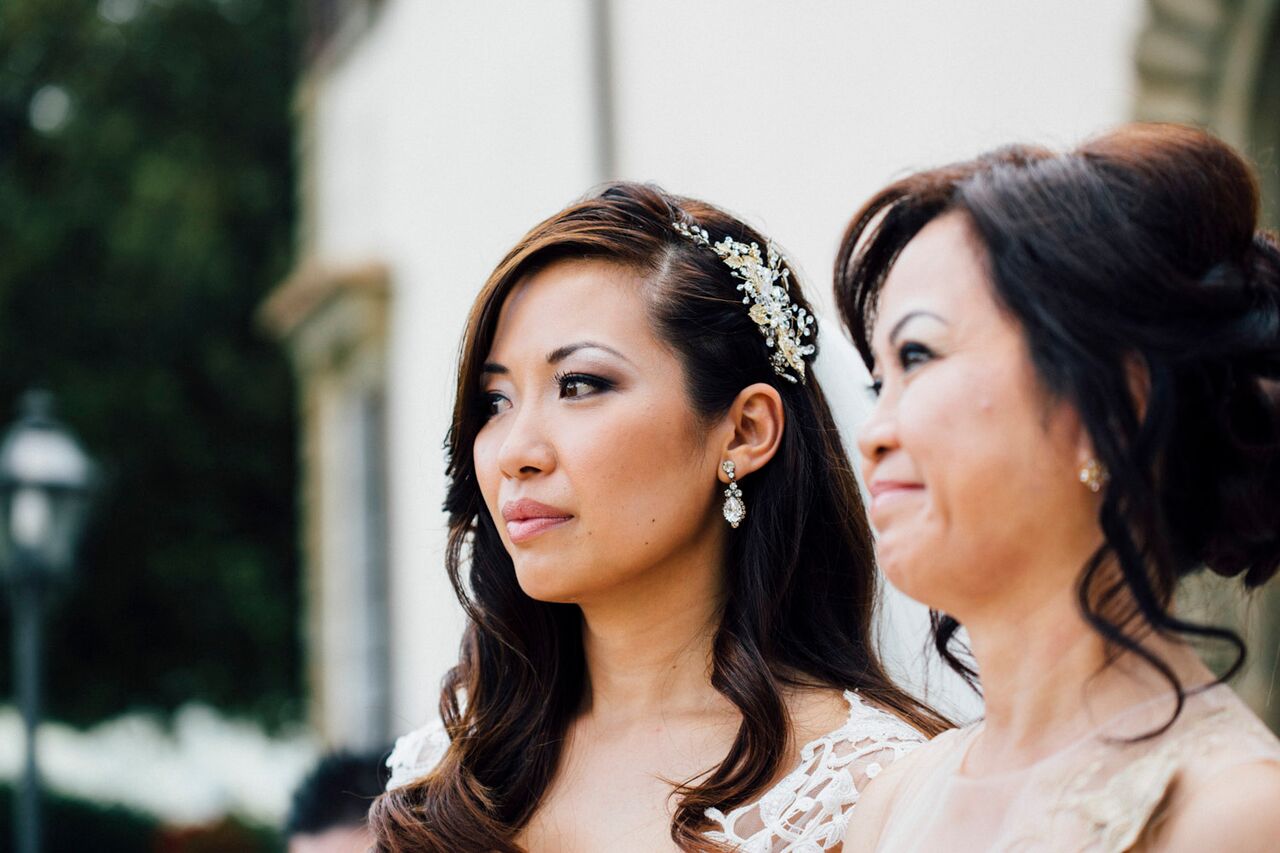 For you guests on the contrary, we can pander every preference and give any advice if requested, considering their dress and their hair shape. We'll reach them at the hotel so that to save their time too, and we'll work on creating a personal style for them. We'll give to any guest who ask for hour services the certainty of a high quality one, well combined with all the ceremony elements. We'll let them be self-confident and comfortable in their look, preserving their personal image of how they'd prefer to look like.
It's possible to ask for a check of cut and hair dye for the day before the wedding. Anyway, this has to be booked in advance, the same has to be for the hairstyle service for the guests, one or two weeks before at least, communicating the number of people who'd like to be served, so that to reach you in a commensurate number of professionals.
Our bridesmaids and guests service includes:
Professional makeup
Lash extensions
Manicure and nail art performed with the main techniques
The bride hairstyle, basics information
Here are some advices to start thinking about the hairstyle you would like to have on your bridal.
For the bride and her guests, the hairstyle must be thought to combine with the dress.
The most important rule to respect is to preserve for the bride the centre of the scene. The most important and stenographic kinds of hairstyle and accessorize must be saved as the bride's prerogative.
For the guests, the hairstyle must be important too. Long hair, for sure, let you have a wider range of options to be creative in tightening: higher or lower, central or one side smooth chignon, elaborated hairstyle composed by hair twists and braids or tails…
A real professional in the field has the sensibility to interpret all round makeup and hairstyle, being able to combine both in a whole harmonic outcome. Essential is being able to observe, listen, empathize and pick up the style that fits the most with the bride's personality and way of being, to reflect her in her ceremony. Hairstyle can be whether elegant and sophisticated or natural and uncombed, provided that is the right choice for the lady. Makeup and hairstyle must be perfectly combined to gracefully complete the image together with the dress, accessorize and shoes.
The ability to work reaching the perfect hairstyle for a bride has been acquired in years of training and experiencing in bridal service.