Find out if my service fits you
My makeup service for the bride was created to offer the maximum to:
Brides who chose Italy for their wedding and who are looking for a flawless hair & makeup service able to reach them at the wedding location.
Brides coming from all around the world who wishes an all-inclusive makeup service and to be helped by professionals able to speak a current English and used to face with exclusive and international customers while working.
Bridesmaids and guests who are looking for a high level makeup and hairstyle service once in Italy, without any worry to manage and find out how to reach professionals. They will be committed to a beauty professional team who perfectly know how to coordinate the preparation, respecting the ceremony mood and optimizing time in schedule.
My bride makeup service for the ones who are getting married in Italy
I founded an all-inclusive service inspired to international wedding trends, thanks to which a beauty stylist team who speak English will be available for the bride and all her guests. I will reach you at your location with them, wherever in Italy, and we'll take care of your beauty. My team is composed by skilled professionals who shares with me the aesthetical sensibility and my will to be demanding in every aspect of our work, because I believe that perfection is a summa of careful details.
For me is a dream that comes true taking a loving care of every foreign bride's look on her wedding day in Italy. I love interpreting every woman's wishes about their image to underline their natural beauty, keeping carefully in consideration the styling balance between the harmony of the makeup, the hairstyle, her dress, the location, the ceremony and the bridal arrangement.
My experience in the U.S.A and all around the world let me feel comfortable relating to many cultures and helps me to figure out my ability to realize their requests. I can match my Italian taste to a cosmopolitan open mind to update my skills on the latest trends.
How does a bride makeup service work?
Once you decide the date and the location for your wedding in Italy, please contact us. Page me at least 4-6 months in advance, even though brides usually get in touch with me a lot before to book the service.
Technology let us communicate despite distances. We'll share mails to decide details knowing each other, you may send some pictures or inspirational board. If, like most of brides and grooms, you are planning to visit Italy some months before to define your bridal, I will reach you and we'll have an important chance to meet in person, to have a first try of the makeup, to find the right colours palette befitting with your skin, combining it to the dress and to the ceremony style too. If you don't have any chance to come in Italy on the contrary, don't worry! We'll keep in touch on skype and we'll meet right the day of your wedding. I will carefully listen to your preferences and I'm available to give you any advice to get the image you desire the most.
My team and I are skilled in any kind of makeup technique: from standard illuminating makeup for a natural look to a deep corrective makeup or a contouring makeup to eliminate imperfections and redness.
Working with me means having a personal stylist – me, or someone from my team – always available for you, who'll be able to realize your indications and to give a distinctive touch to get the best result.
I know the wedding day will be full of commitments ad emotions for you. So that I will be able not to steal long time for the preparation, we'll be fast but impeccable. Makeup and hairstyle will keep you busy not more than two hours.
To complete your look, I can offer:
Touch up service during the day, the stylist will be available to grant a flawless look for the photos, videos, after the ceremony and during the party
Lash extension service to underline your glance
Hairstyle and hairstyle touch up service during the day
Nail service
Ceremony Makeup service for the bridesmaids, witnesses and guests
For your dreamy wedding nothing is left behind. Your bridesmaids will share your joy at the bridal. Sure enough you thought to their dress combined to yours. Thanks to my team I can offer the makeup and hairstyle service for every bridesmaid and guest, paying attention to combine the style chosen with the specific characteristics for all of them.
We offer an all-inclusive service for whom may request it, to let them be ready and gorgeous at the ceremony. Being under our care they will have a very high-quality counselling without any need to move from the hotel and being sure we can speak a fluent English, despite most of non-experienced professionals from an international point of view. My team is available to look after any detail at your location. They will be aware about the style the bride decided for her wedding, so that it'll be easy for them to suggest your guests properly and let them feel comfortable with the ceremony style.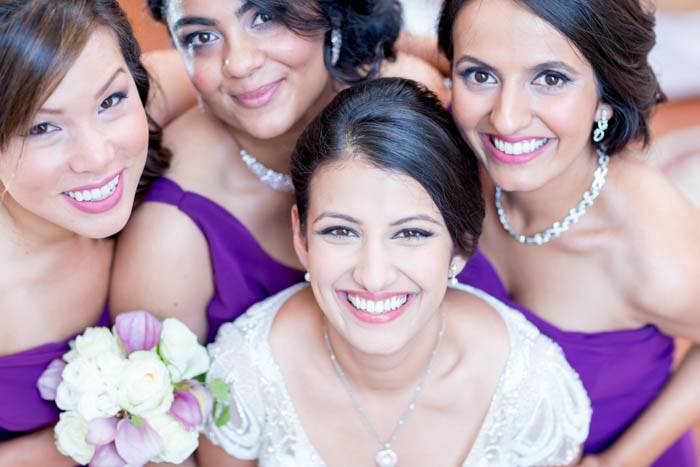 We'll save as much time as possible in this case too: a stylist will follow your bridesmaids and the guests who may decide to take advantage of our service, avoiding awaiting and letting you enjoy the conviviality.
For the guests' makeup service: it's important to book 1-2 weeks before telling exactly the number to provide the team of every member in loco may needed.
The team is composed by every professional you may ask for in beauty matter:
Hairstyle, touch up, colour and cut
Lash extension
Manicure and nail art, reconstruction techniques
Bride makeup, basics informations
To introduce me I will tell you what my idea of makeup consists of, particularly in bride makeup matter. Makeup has been an important mean of communication since ancients started to use it believing it would have been able to put themselves in contact with the divine. I've always been fascinated, most of all for the absolute importance that makeup can have in women's life, no matter where or how it was performed. Being a makeup artist and working with so many women all around the world I understood that's true the statement "ugly women doesn't exist, neglected does". Every women can improve herself and learn how to enhance her own characteristics, pointing out details and particularities she chooses. Important is: to learn how to accept ourselves and take a safe care of us. Others will be amazed if we learn how to take care of our body, and we'll be amazed too at the same time. Makeup can realize miracles, let us dare and change, it gives us self-determination and confidence.
The makeup for a bride is an essential moment from a psychological point of view; It's important to give the bride the possibility to feel amazing and to enhanced her self-confidence, that on her wedding day must be at the top.
Thanks to a perfect makeup and to a shiny bride who feels gorgeous, the photographer and the video maker can do their job at the top of their possibility and they will give to the bride and the groom unforgettable memories in pictures and film. Whether the look is natural, sophisticated or glamour, skin must turn out sheer and mild, toned and shiny, avoiding any kind of chromatic difference between the body and the face.
A bride makeup must be in line both with the style the lady chose but also with the photographer needs; a lot of attention to the details must be payed, the makeup must be humidity and heat resistant according to the climate also.
Trust a professional team for the most important day of your life means being sure that people who's going to work for you knows the best how to valorise you in the beauty and unique look you deserve.